What is a double-hung window?
The double-hung window style has two sashes that operate vertically for ventilation from either the top or bottom of the window unit. Both sashes may tilt in for safe and easy cleaning from inside the home. Balancers counter the weight of the sashes to provide easy operation and to allow the sashes to remain open in any position.
All Window Source double-hungs come standard with:
Multi-chambered premium vinyl frames
Fusion welded vinyl sash and main frames
Both sashes tilt in for safe and easy cleaning
Double insulated glass IG units
Warm edge spacer technology
Spring loaded vent latches
Equal lite sashes
Half screens
Custom-made to fit each opening
Limited Lifetime warranty
Our Most Popular 6000 Series Double-Hung Windows
Many homeowners upgrade to our popular 6000 Series double-hung window line. The 6000 series comes standard with more vinyl, more strength, double strength glass, a true slope welded sill and the Clarity mesh screen. For just a few dollars more, it is your best value.
6000 Series Features
Multi-chambered 3 1/4 inch vinyl frames
Fusion-welded sashes and mainframes
Both top and bottom sashes tilt in for cleaning
Warm edge spacer system
Double insulated glass
Extruded aluminum half screens
Double strength glass option
Clarity mesh screen option
Interlocking meeting rail
Welded true slope sill
Meets Energy Star when ordered with LowE glass
Limited Lifetime Warranty
Our Highest Performance 9000 Series Triple-Pane Double-Hung Windows
The 9000 series is our highest performance window line. Triple glass and foam filled frames give you the ultimate in comfort and energy savings. The triple glass package in the 9000 series features two coatings of high performance LowE and two chambers of Argon gas fill. The result is a highly efficient replacement window with an incredible NFRC U-factor of .22. With the 9000 series you'll be prepared for ever rising energy prices. We have seen similar products offered for more than twice as much. Why pay more?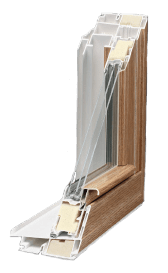 9000 Series Features
Multi-chambered 3 1/4 inch vinyl frames
Fusion-welded sashes and mainframes
Warm edge spacer system
7/8 inch triple insulated glass
Foam-filled frames resist heat and cold transfer
Double strength glass option
Two layers of LowE/Argon option
NFRC U-Factor of .22 option
Extra heavy duty beveled frames
Clarity mesh screen option
Welded true slope sill
Decorative recessed locks
Limited Lifetime Warranty