What to Expect on Your Window Installation Day
Many of the homeowners that we have met seem to have a misunderstanding about how simple window installation can be. The thought of having someone come into your home to remove and replace those old windows can be a bit overwhelming if you are not fully informed on the installation process. 
Will my interior window trim be damaged or need to be replaced?
Are my window blinds still going to fit with new windows?
Will the installation process take days or even weeks to complete?
How much is the installation going to cost me?
How long will it take to get my windows installed after placing my order?
These are just a few of the most common questions I find customers have before making their decision on purchasing replacement windows. At The Window Source of Bismarck, we like our customers to be fully informed on what to expect when our installation crew shows up to truly transform the appearance, quality, and value of their homes. So let's get to it… We are here to explain all aspects of the inside window installation process and answer the most common questions customers have when it comes to installation day.
1. Installation Crew Arrives
Here at Window Source we are normally scheduling 3-6 months out for installation appointments. They will always call ahead of time to inform you they are en route. You will be greeted by our courteous and professional crew members, who will give you an overview of how the day will go. Depending on the job, your installation could take as little as a few hours or up to 2 days. You will be informed ahead of time if window blinds will need to be removed.
2. Removing the Old Windows
Our crew will cover your floors for protection. Next, they will remove the window stop, which is the small piece of wood that runs vertically between the window sashes and the trim around the windows.
Below is a photo to give you a visual of how a window stop is removed. Not so bad, right?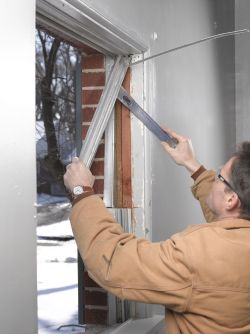 Now, the old wooden sashes and sash rails will be removed without damaging any of the interior trim around your existing opening. The interior trim will not need to be replaced after the window installation. The old windows have now been removed with the casing that held the old windows staying in place.
3. New Windows Are Ready to Be Put in Place 
The installation crew will make sure the window opening is clean and clear of any debris. Next, your new vinyl double-hung windows will be installed in the existing opening and checked for proper alignment. The window will be plumb, level, and square while fastening the window to the frame. The window will be tested to make sure it is operating correctly. Finally, the window stop will be reinstalled to its original position and caulked for an airtight seal. The installation crew will make sure the window has been insulated on the exterior of the home also.
4. That's It!
Our installation crew will do a walk through with you to make sure you are 100% satisfied with the job that has been completed. The installers will not leave the job site until you sign off that you are completely satisfied with the installation and product.